Tune into this page for all the breaking match reports. Written by members of the current teams.
Wednesday 2nd September
Match Report- 7 a side Tournament
On the 2.10.19 the school football team participated in a 7-aside football tournament. For the first match we had to play a team called lady grove. We had to collaborate with each other to try to win. First of all, they hit us on the counter attack and struck a us smashing it bottom corner. We kept are heads up and waited for the moment to strike back, Sam found the near post of the goal…1-1. Unfortunately they went on to score four more in the second half…4-1 was the final score. We shook hands and went off to have a rest before the next game.
Next, we played an amazing side called St George 's. we had to play the hardest, we had ever played but we had confidence on are side. The first half was hard but we had a lot of counter attack and only conceded 1 goal. We started the second half with high hopes but we let in 5 goals to make the score turn to 6-0. Are hopes had gone. We shook hands and walked off for a drink.
We hope we come back to the next tournament stronger than ever and ready to fight.
Thank you to Mr Evans for the lunchtime training. Mr Cumberlidge for transporting St Edwards. Finally our parents for transporting us and cheering us on.
Written by Seth and Ben
Sports Report 30.9.19
On Monday 30th September, all of KS2 woke up with butterflies in their deep, dark, dull tummies. When we arrived at school, we soon realised our restless sleep was all for nothing. As Mr Evans told us the heart-breaking news, that cross county was cancelled. We were all devastated and we all slumped down into our sleeps.
We all needed resilience because we were almost crying and tears were dribbling down our faces but at that moment Mr Evans told us the incredible news we were going to Attingham Park! We were so relieved we almost fainted with relief.
Next we went on the walk for about 3 hours. We covered a staggering 8km. Near the end of the walk it felt like we had a billion stones in our pockets but we showed great collaboration and kept every motivated to finish. During this time, we had races and at this point smiles were exploding out of us.
After we went into the deer park, this was a great time to cool down after the brisk walking. We were able to see the magnificent deers. We had to walk ever so quietly not to scare them away. We soon looked at the watch and it was a race back to the finish line before the bus left. Luckily, we all managed to board the bus.
We would like to thank Mrs Lewis for letting us go to Attingham after the Cross Country was cancelled. Also we would like to thank the bus company for taking us. Thank you Mr Evans for making us go at an extremely fast pace. As well Mrs Corfield, Miss Daniels, Miss FFrench and Miss Mainwaring for taking us.
Written by Lucas H
Sports Report 24.9.19
On Tuesday 25th September, we went to a level playing field tournament hosted by Shrewsbury Town. There were 2 others teams competing Sir John Talbot and St Marys.
Before we played our matches, we went on a tour around the stadium. Excitedly and curiously, we went into the changing rooms and were shocked by the difference of the changing rooms. Next we sat in the dugout and was self-motivated to sit there one day.
After this we went to the hub in anticipation of playing football. Our first game was against St Marys, we managed to win this game due to good crossing and passing by the team. It was a smashing game. We were confident we were going to win and with some great defence we did. Condover 6- 1 St Marys.
Without a breather, we went straight into our next match against Sir John Talbot. A rule we created was giving the team 10seconds on the ball before we put pressure on them. This taught us collaboration by giving everyone a chance. Halfway through, Dave Edwards came and joined there team. Condover 11-0 Sir John Talbot.
We would like to thank Mr Cumerblidge and Miss Ffrench for taking us and giving up their time to watch us play.
Written by Max and Oliver S
Sports Report 19.9.19
On Thursday the 19th September, at Church Stretton Secondary school, Year 6 competed in a Netball tournament. There were 5 teams competing.
Our first match was against Condover 2, we showed great collaboration and Condover 1 scored 1 goal so the score was 1nil to Condover 1.In the second half both Condover defended well and no points were scored. Condover1 1-0 Condover
Our second match was against St Lawrence and there was some great passes. Then in the second half Condover managed to get a break through and scored again shortly after. Condover 2-0 St Lawrence.
Our 3rd match was against Rushbury (they were very tough). We discussed tactics and came up with a great plan. The score was 0-0 at half time. At half-time we practised our mindfulness and managed to score a winner. Condover 1- 0 St Lawrence
We all felt exhilarated and excited whilst playing the matches. Thank you to Mrs Foxall for taking us to this event.
1st-Condover1
2nd- Rushbury
3rd-St Lawrence 1
4th-Condover2
5th-St Lawrence 2
Written by George and Amelia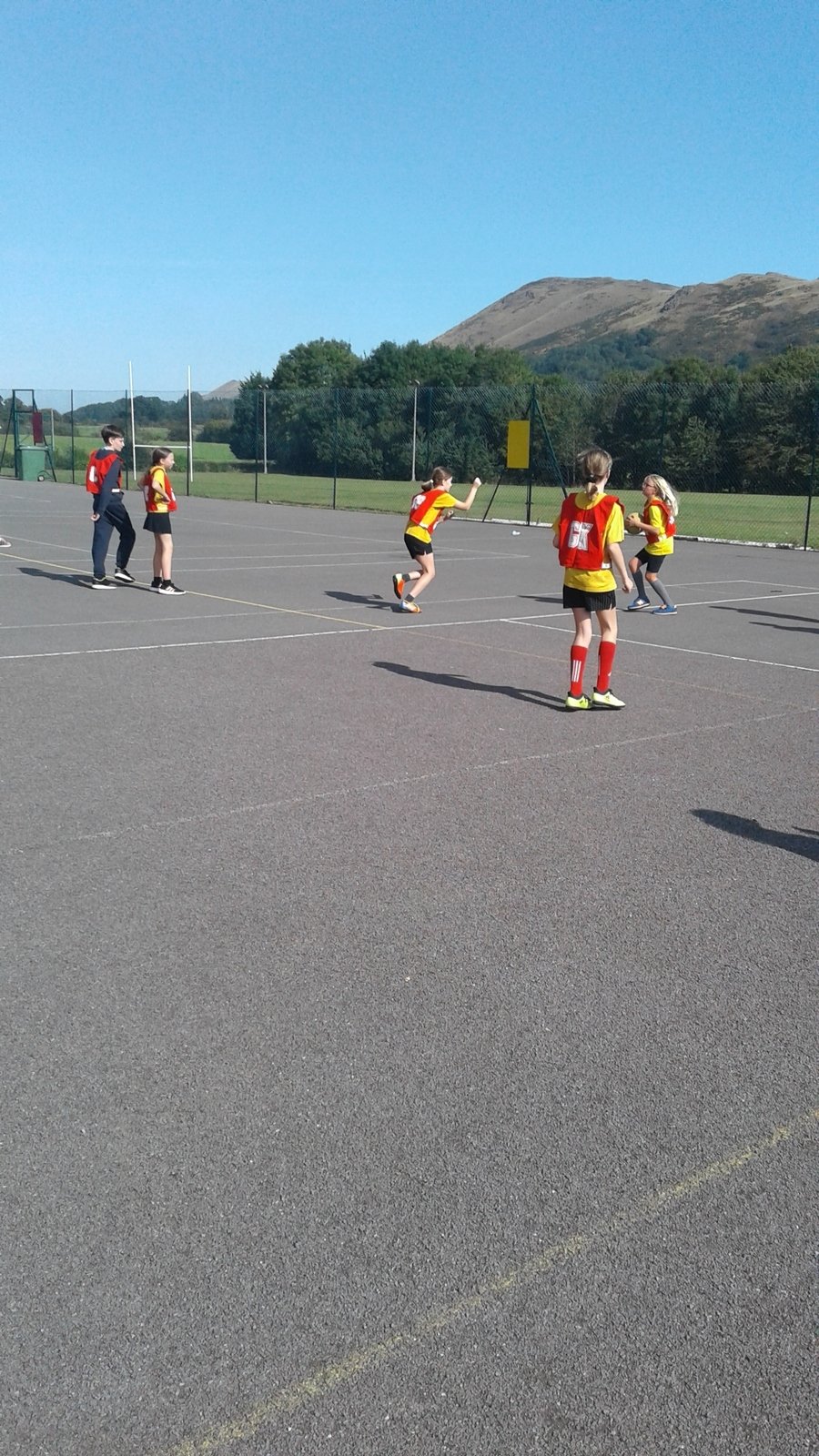 Sports Report - 18.9.19
On Wednesday 18th September, our team competed at the Shrewsbury Sports Village in a 6 – A side tournament. Before the game we felt like we had a lead ball in our stomachs, but thankfully our mindfulness calmed us down before our first game.
First we played Oakmeadow, we started off well with some good passes and interceptions, but then they broke on a counter attack and scored. Oakmeadown 1 – 0 Condover.
Next we played St Winifred's after not having a break. We played well as a team and we were calling for the ball. There was good collaboration in amongst our team. They were very tactical and snuck a goal in to make in St Winifred's 1 – 0 Condover.
Time to catch a breather after a team discussion we changed formation to see if that could help us press more.
Oakmeadow again! This time we were playing even better than last time. They snuck a goal in again to make it Oakmeadow 1 – 0 Condover.
Now it was our final game against St Winifreds, we had good concentration and made it 0 – 0.
We would like to thank our parents for taking us to the sports village, Mr Evans for the lunch time training and Mr Pearce for taking us to the tournament.
Written by Marcus and Oliver